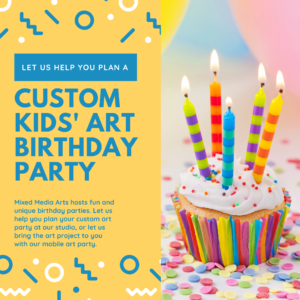 PROJECTS BY AGE
*Projects will be adjusted for age
Ages 1 – 5
Sculpture (4+)

Storybook Inspired

Treasure Boxes

Birdhouses

SImple Canvas Paint
Ages 6+
(Choose from any above or below)
Comics
Comics

Wooden Sculpture/Building

Slime

Canvas Painting
Themes
*Can be added on to any single project, theming the studio space/decorations and project
Under the Sea

Space

Dinosaurs/Safari

Mythical Beasts

Sweets

Trains, Planes and Automobiles

Construction

STEAM

RAINBOWS
BIRTHDAY PARTIES FOR KIDS
The Mixed Media Arts studio is the perfect place for your child's next birthday party! From set-up to clean-up and everything in between! We will host and help you organize to create your child's dream party that is fun for all – All you need to do is supply paper products such as plates, cups, utensils, napkins, food, and drinks. We'll do the rest!
Each of your child's guests will take home an art party project that you can select below. The project will take up to 1 hour and food/cake time will take up to another hour – additional time can be added.
ALL BIRTHDAY PARTIES INCLUDE:
Art projects + materials

Two outgoing and fun party hosts

Project take-home bags

Large private party area that consists of a private project room and party area
Custom Theme
Don't like any of our themes? Choose your own for a small additional cost and we'll make the space and project extra special for your child. Custom Themes can also be built with custom projects, if you saw a wonderful art idea and we don't offer it, let us know and we'll be happy to make a version of our own for you!
Pricing
Basic
Up to 12 Kids \ $325
Additional Kids \ $10 per
Additional 30-min (up to 1.5 hours) \ $30
Sculpture \ $360
2 Birthday Kids (Non-siblings) \ +$45
Theme
Additional $50
Custom Theme
Additional $90
Mobile \ $300